Hazelnut oil is one of the most expensive and precious oils in cooking , but especially one of the most versatile sauces for chefs who are always new combinations and recipes. The use of hazelnut oil is recommended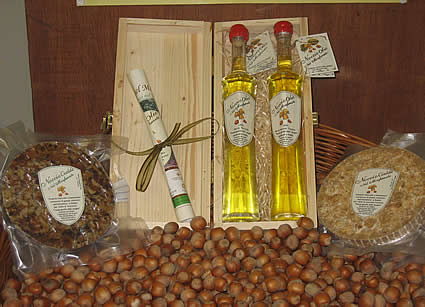 for use in cooking for its rich in essential fatty acids . And ' sought by the fineness of its taste and its smell , its content in monounsaturated fatty acids makes it usable on both cold and cooked foods .
The presence of oleic acid gives a high digestibility .
It does not necessarily substitute , but complementary to olive oil, may be associated with a sweet vinegar or lemon juice for seasoning vegetables and fish. It can be used in the preparation of sauces and main dishes (pasta, meat, bread and dairy products) by adding a fine and elegant flavor to your cooking .
With its unmistakable delicate flavor is particularly suitable for pastry and sweet biscuits. With its sweet and fragrant taste can accompany all salads and vegetables ( raw and cooked ) and also used to enhance other cold dishes, such as cheese, adds the fine taste of the hazelnuts to marinades and mayonnaise. A few drops on the fruit and ice cream (cream or mozzarella ) turns it into a dessert superfine.
The refined taste of this oil , also satisfies the most discerning diner .